John Choisser
Here are some images concerning our patriarch, John Choisser.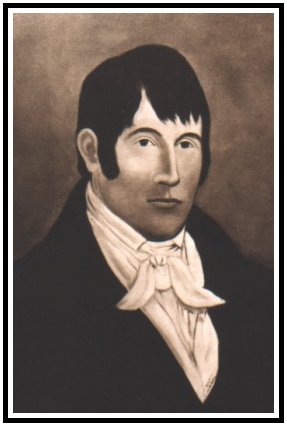 ---
Marriage License
John Choisser married Nancy Sutton on January 5, 1811.
Note that they misspelled his name, and as those of us who
are his descendants know, people have been doing that ever since.
In a way the misspelling is fortuitous - it reveals that John himself
is responsible for the way the name is pronounced, and that he
was pronouncing it that way the day he married Nancy Sutton,
before any of their thirteen children were born.
"Randolph County" in 1811 included all of present day
Saline and Gallatin Counties, as well as many others
in the southern part of the state.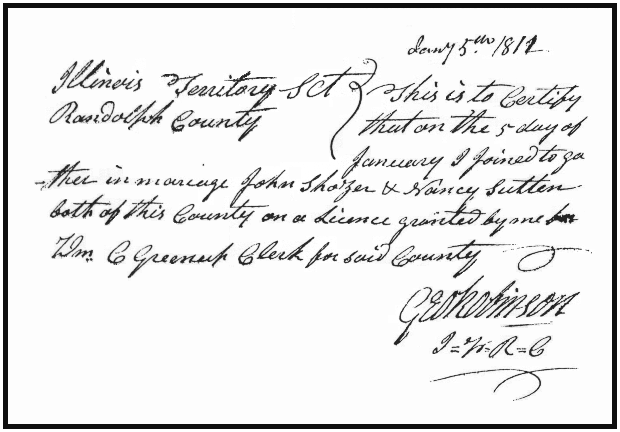 ---
Nancy Sutton Choisser
This portrait and the one of John at the top of this page
were both painted by an artist in about 1835.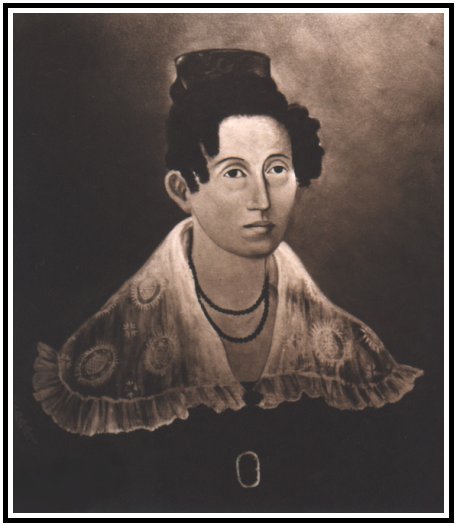 Nancy was the daughter of William Alpheus Sutton
(1761-8/15/1839)
---
Eldorado, Illinois
The map below shows the following:
1 - John and Nancy's farm
2 - Wolf Creek Church & Cemetery
3 - Choisser Street
John and Nancy were among the founders
of the Wolf Creek Church.
The cemetery, now the city cemetery,
is the final resting place for
dozens of Choissers, all of
whom are John's descendants
or the wives of them.
Of course the state roads, and even
the City of Eldorado, did not exist
in John and Nancy's day.
Choisser Street was named such
in the mid 1970's.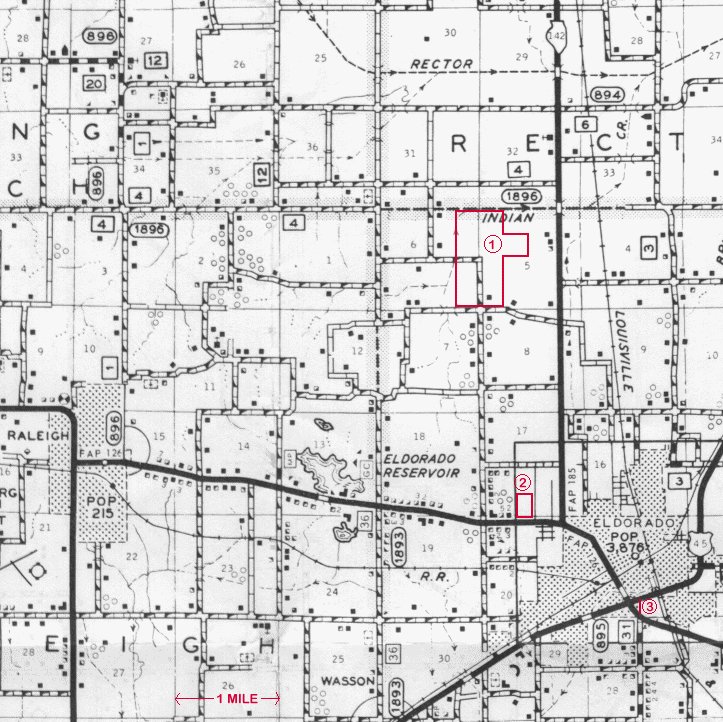 John acquired the first part of his farm,
the southwest part, with this grant in 1826.
(Obtained from this government site.)
---
John's Fifteen Minutes of Fame
John owned slaves in Illinois, a free state.
A slave sued John for his freedom, and the case
went all the way to the Illinois Supreme Court.
In losing his case, John established that
Illinois was indeed a "free state&quot.
The case is entitled Choisser v. Hargrave.
---
Portraits of John and Nancy
Photographs of portraits of John and Nancy Choisser at the
Saline County Historical Society
(These are understood to be the originals,
but they are in very poor condition.)
Photographs of portraits of John and Nancy Choisser at the
Cadle-Clark residence in St. Louis
(These are understood to be copies, perhaps commissioned
by Senator Parish, and they are in excellent condition.)
---
John's Grave
John Choisser is buried in Wolf Creek Cemetery (see map above).
John's grave is found up near the church,
where the earliest settlers are buried.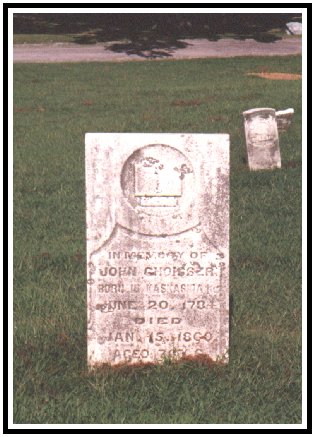 ---
Early Ancestors' Accounts
[ Mary Ann Duval ]
[ unknown ]
---